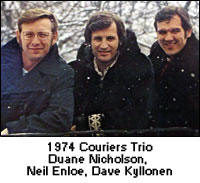 Eisenhower was president and Presley was king when the God of all ages placed His call on three young men; Dave Kyllonen, Duane Nicholson and Neil Enloe. These students at Bible School formed a music ministry team five decades ago and decided upon the name "The Couriers".
What seemed to be at least their temporary marching orders led to twenty five years of singing the Good News in churches, concerts, prisons, hospital rooms and countless other venues numbering well over 10,000. All this was to lead them into recording over 40 albums of music and traveling to not only all fifty United States and all Canadian provinces, but also to 80 nations of the globe in missionary evangelism. Well over three million miles were logged into the record books of Heaven in ministry.
During the same time period Dave, Duane and Neil were presented three prestigious Dove Awards from the Gospel Music Association. Two of the awards, "Song of the Year" and "Associate Member Award", were bestowed upon Neil for his original music composition, "(The Cross Is My) STATUE OF LIBERTY". The other award was given to honor their live concert recording, "OVATION", for being voted by their peers as the Gospel Music "Inspirational Album of the Year".
Dave, Duane and Neil, when asked how long they would sing together always respond by saying, "As long as God leads and opens the door." In 1980 everything changed as God seemed to be shaking their comfortable and perpetual "Ministry Nest" and the decision was made to launch out into the unknown and disband. No one was more shocked at the abrupt leading of the Lord than Dave, Duane and Neil. When they look back in retrospect on that stunning decision, that many loyal friends who had prayed for the men and supported them throughout their ministry couldn't understand, Dave, Duane and Neil can see the hand and wisdom of God in that momentous decision.
Dave Kyllonen gathered his family together in a group known as "Homefire" and began a 17 year journey in a vital ministry providing a Christian perspective on family relationship issues as they traveled all across the United States and Canada. Today all three of Dave's daughters are married to ministers and involved in ministry. Dave and Judy have two handsome grandsons and six beautiful granddaughters.
Duane Nicholson continued on as a soloist and traveled with his family in music ministry. He continued to promote Gospel concerts that the Couriers had long ago established and hosted a television program of Gospel music for many years in Pennsylvania. Duane and Jean Ann's two daughters are involved in the ministry with their husbands and their two granddaughters are gorgeous.
Neil Enloe continued to sing with his family and as a soloist, itinerating over many of the familiar paths he traveled in his tenure with the Couriers. He also continued writing and arranging songs for other artists. All three of Neil's children are involved in music and ministry. Neil and Ruth boast of five spectacular grandchildren; four handsome grandsons and a beautiful blonde granddaughter. Neil's son Tim sang baritone in the Couriers for over five years. You can visit his website at
enloeministries.org
So the unpopular decision to disband as the Couriers has proved to be a blessing to Dave, Duane and Neil because it allowed time for the men to involve their children in ministry and influence the formation of the next generation which now also carries the glorious Gospel message. The investment in their families is already paying eternal dividends.
A few years after going their separate ways in ministry Duane and Neil reorganized and resumed the name "Couriers" when Neil's brother Phil joined the group as bass/baritone. After many more miles and years and prayerful consideration Duane, Neil and Phil decided the time had come to lay plans for permanent retirement from the Couriers. During a transition of about three years, three young men with a vision to continue the ministry of the Couriers, and having excellent music skills, were brought into the group with the express purpose of phasing the original members out of the group. Then in the year 2000 all three members of old guard quietly stepped out of the Couriers for the last time. The three young men are doing remarkably well as the ongoing Couriers. Visit their website -
thecouriers.com
During this time, unbeknownst to Duane and Neil, Dave was increasingly feeling the weariness and fatigue of being on the road fulltime. He too was contemplating retirement.
Some lifelong friends invited the now former Couriers to sing a couple of songs for a nearby church on a Sunday morning. The surge of excitement over the event took on the nature of an old feeling which had not risen to the surface in the many years the men spent in separate ministries. What at first appeared to be accidental conversation turned to a deep sense of the new leading of the Lord toward reassembling the original members of the Couriers, only this time it was obvious that they wouldn't be on the road day in and day out as had been the case for so many years in their youth.
The word leaked out that they had sung again and the phone began to ring with invitations from various churches and concert promoters. Problem: The name "Couriers" had been bequeathed to the next generation. So they settled on simply being referred to as "DAVE, DUANE and NEIL".
Amazingly, the old magic and the old sound never really left. An evening with Dave, Duane and Neil is an experience of joy and delight with a blend of the old and new songs. The pen of Neil Enloe has not been dulled by the years. Solid messages of the Gospel are still flowing from his talented mind and heart. The rich, brilliant tenor voice of Duane Nicholson still clearly brings identity to the sound. Dave Kyllonen still sings those deep notes with command and preaches his heart out with excitement.
The name has changed but the men who have endeared themselves to a generation have come full circle. Dave, Duane and Neil are back in full force.